Highland Equipment Inc. design, fabricate, install and service equipment used in industries such as food, beverage, brewing, dairy, pharmaceutical, cannabis and cosmetics. We offer our customers a wide range of high-quality blenders, in-tank agitation and multiple mixing systems to suit any sanitary process application. From gentle stirring maintaining product suspension to high shear emulsions, including heating and cooling options.
We will provide the correct system to meet your requirements!
Blenders
Our customers rely on our experience to deliver the quality and efficiencies that are required to meet their blending demands of production and sanitation day in and out.
Our blending systems can incorporate products of all viscosities and powders (solids). We offer both standard and custom blending systems, including
Highland's UHS Blender (In-tank batching) (heating or cooling)
Powder Wetting (recirculation liquid/powders)
In-Line solid/liquid (single pass homogeneous blending)
Shear Pumps (recirculation or final pass)
Single and twin ribbon blenders (powders or slurries (heating or cooling))
Twin or "V" shell blenders (powder/powder)
      Highland's "UHS Blender"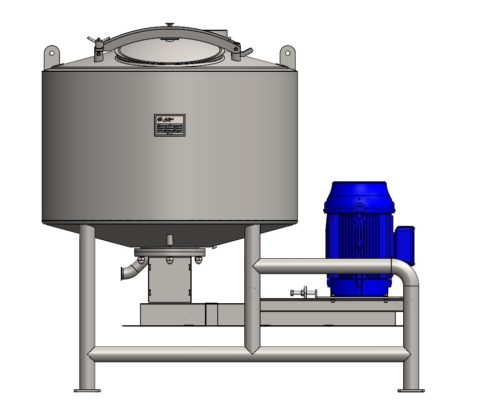 Agitators
Highland Equipment offer the following types of in tank agitators for liquid phases of lower viscosities, typically used to maintain product consistency prior to packaging:
Low Speed. Gentle handing keeping product in suspension.
Medium Speed. Maintains consistent throughput of various ranges.
High Speed. Aggressive turnover preventing solids from separating.
Mixers
Mixers are used for all ranges of viscosities where a product or solution needs to be blended, emulsified, homogenized, heated or cooled. All our In-Tank mixers offer heating or cooling jackets as well as a culinary steam injection option. Whether you need to cook your product or create a thermal reaction, we have the system for you.
There are many types of sanitary mixers from in-tank options to in-line solutions.
In-Tank Shear mixers. Normally used to emulsify or homogenize multiple products from powder wetting to thickening, removing agglomerations or breaking down solids. Several options are available to provide you a desired product consistency.
In-Tank Swept Surface. From Cooking to cooling, swept surface mixing continuously sweeps the tanks surface creating product turnover allowing the temperature to consistently blend within itself. Swept surface also prevents your product from over heating (burning) on the tank surfaces.
Rotor/Stator (in tank or inline) Similar to in-tank shear mixers, the rotor/stator design offers a more aggressive mixing option, these mixers will create reactions that prevent separation. An example would be to suspend oil in water.
High Shear Phase Mixers. In-Line phase mixers are designed for mixing powders into a liquid stream or can combine two liquids (or more) into one homogeneous mixture. These can be incorporated into a recirculation loop using your mixing tank or an inline single pass continuous production.
Highland Equipment for Your Blenders, Agitators, and Mixers
Highland Equipment provides high quality equipment for customers across a variety of industries. We offer services such as design, manufacturing, integration, and installation with a strong emphasis on customer satisfaction. For more information on how we can help with your sanitary process equipment needs, request a quote or download our UHS Blender Brochure today.