TIG Stainless Systems and Highland Equipment Are Combining Forces to Serve You Better!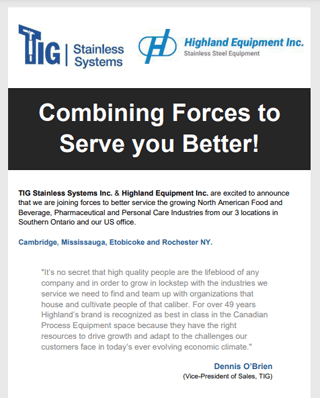 Combining Forces – PDF
Since 1973, Highland Equipment has established itself as a leading provider of sanitary process equipment and installations of unsurpassed quality! Consistently exceeding industry standards with a wide range of capabilities. We can accommodate complex pressure vessels, skidded systems, custom equipment and a host of customized tanks. 
Highland is committed! From our fabrication teams, installation crews and service department our goal is to provide you a worry-free experience. 
Done right the first time and on time!
Industries that we serve but are not limited to:
Dairy, food & beverage, brewing, pharmaceutical, cannabis and personal care industry standards with an extensive knowledge base and a skilled team of professionals – we are your single source solution.